Hello and welcome to the all new Sentinel Group website!
You will notice that the site not only has a new look, but your login area has also changed. This post will go through some of the new features so you can better understand your new customer account.
Login
You should have received an email with instructions on how to access your account. In the email will be the username and a link to setup a new password. If you previously had an account, you can also just send a password reset from the login page.
Business Portal
Once you have logged into your account, you will be directed to the business portal. The business portal connects to all of the pages you will need.
My Account
This is where you can access all information relating to your account and orders:
View your recent orders
Add, edit or update your address/s
Update your account details (name and password)
Resources
This is our resources library where you can download images (logos), promotional material (brochures and flyers) and marketing templates.
Forums
Sentinel has setup a useful forum where you can communicate with Sentinel and other customers about products, questions, applications and more. Start a new topic today.
Pentaforce™ Registration
Simply fill out the form to complete your Pentaforce™ registration.
Loyalty Program (Coming Soon)
Make a purchase and get rewarded! Details for our loyalty program are coming soon.
Placing an order
The new system is so easy! Just log into your account and you can start adding products into your cart. Please make sure to login first in order to display the correct pricing for your user. In a product just select the options that you need, add in the quantity and click Add To Cart. You will be able to see the price per unit as well as the total price before adding the item to your cart.
Once items have been added to the cart, you will be able to review and adjust the items as needed. In the cart you will be able to see the weight of your order. The weight will determine how your order will be shipping. If your order is under 5kg it will be sent by Air Freight, over 5kg will be sent by Road Freight. If your order is over $50 (not including shipping) you will automatically get Free Shipping. Please note that pricing in the cart and checkout is inclusive of GST.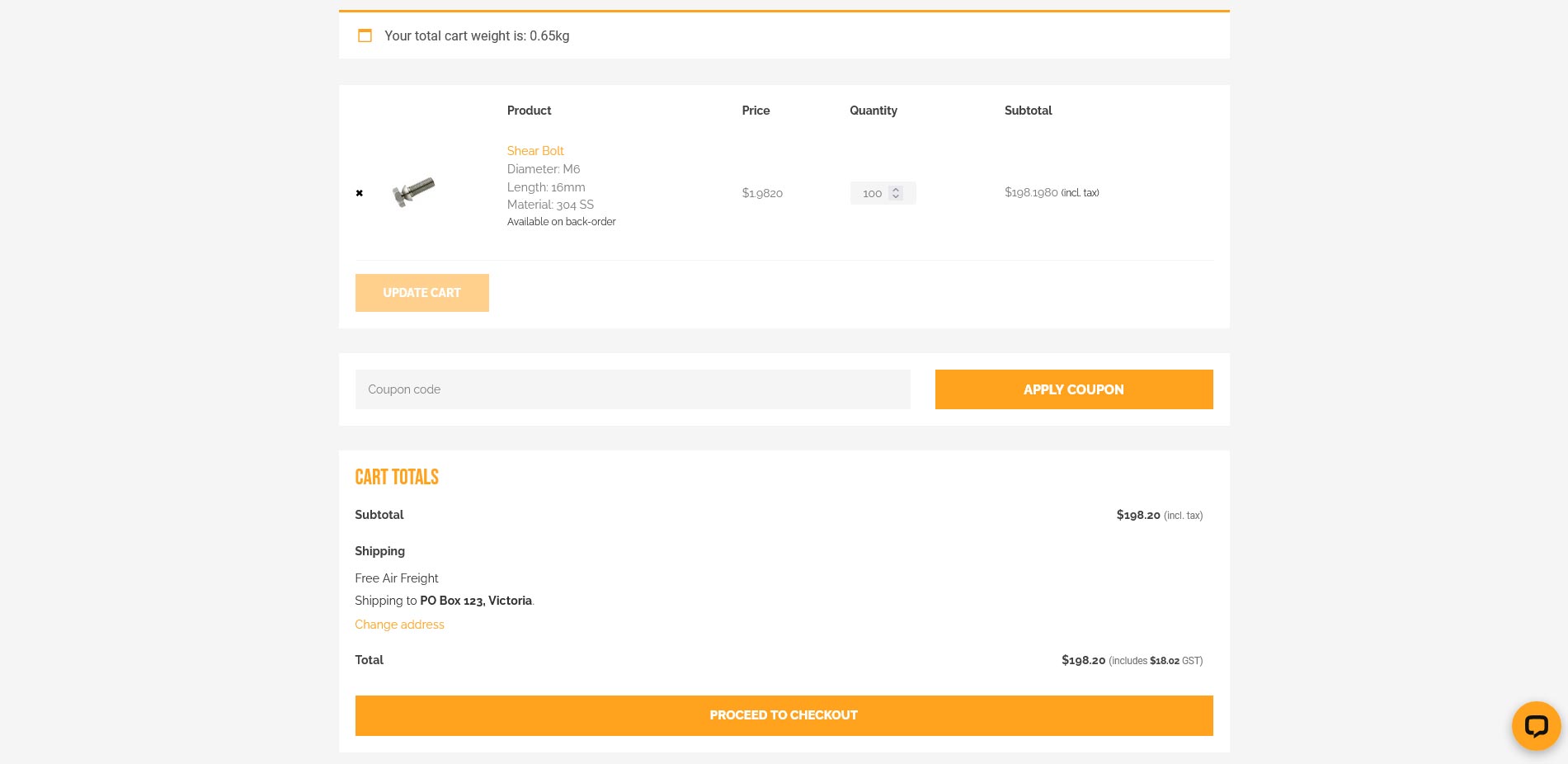 Once you proceed to the checkout you will be able to review or update the details for the order such as shipping address, order notes, etc. Please note that the website does not accept payments, you will recieve a final invoice once we have received and confirmed your order.
Need help or have a question? Contact us or try our live chat.