The NACC Facility Project
The Australian Government is currently investing $1.6 billion into facilities to accommodate the introduction of the F35-A Joint Strike Fighters planned for 2019. This spending is being split over a number of sites around Australia under the title of the New Air Combat Capability (NACC) Facilities Project. Visit the project website to find out more.
Such a large scale defence project includes a variety of opportunities for local contractor involvement and one of the main areas of consideration is the need for high level security features in many areas of the project.
Sentinel Group have been involved by supplying Armour Ring caps to secure metal roofing and cladding for new facilities at the Williamtown base which is the first major section of this project.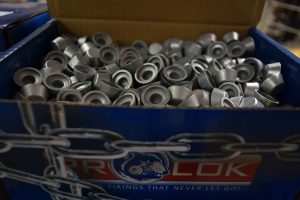 Why Security?
Like many similar projects, there is a need for "Tamper-Evident" fixings which means that if an area of the building has been tampered with, or perhaps removed and re installed, it is evident upon inspection. A simple way of achieving this is to use a fixing system which is deigned to be permanent, one which has no commercially available tool designed for removal. The Armour Ring meets this requirement where either the fastener itself of the material around the fastener needs to be damaged in order to remove the fixing. Explained below:
As demonstrated in the above, the Armour Ring is an easy to use security fastener product with an effective result being a high security fastener. This product can be used to make any metal clad building that has been fixed with standard Hex Head screws secure by fitting these as a retro fit over the head of existing screws. They can be painted to match popular sheeting colours which is necessary in most commercial projects.
Whats Next?
We are excited to announce that we have launched a new "One-way" Kinmar Permanent Self Drilling Screw that will achieve the same result as the Armour Ring, with the benefit of being a single screw (not 2 parts).
This is a money saving product for Defence facilities, as well as increasing the speed of installation! The Kinmar Permanent Self Drilling screw provides a great option for effectively securing any metal clad building in a simple cost effective way.